December 15, 2019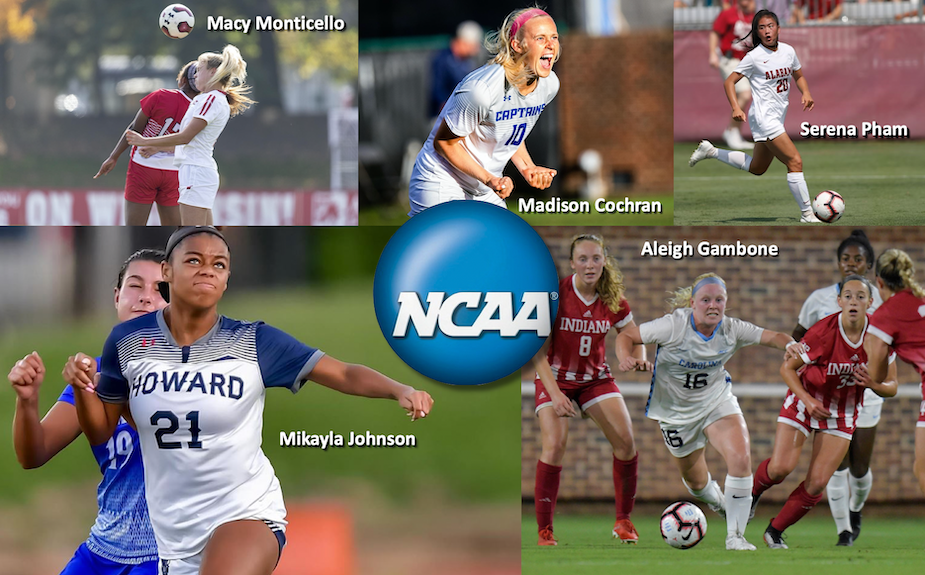 In 2019, 57 players formerly coached by Total Futbol competed on behalf of 44 different universities and colleges across 18 states and the District of Columbia. Eight freshmen debuted on the college pitch while five seniors bid it farewell.
Six schools with TF alums on the roster were champions of their respective conferences (Amherst, Hofstra, Johns Hopkins, Navy, North Carolina, Randolph-Macon, Wisconsin), and seven finished in second place (Christopher Newport, Emory, George Washington, Georgetown, Howard, Johns Hopkins, University of Illinois-Chicago). A total of twelve teams advanced to the NCAA Tournament in their Division (I or III), and one team—the University of North Carolina—made it all the way through to the championship game, ultimately losing to Stanford in a penalty kick shootout.
TF alums made a substantial impact this season. Collectively, they played in a total of 813 games (starting 474 of them) and played a part in 125 goals, scoring 58 (including 20 game winners) and providing assists for 67 more. Notably, 14% (8/57) of former TF players earned all-conference recognition for their on-field performances in 2019 (and many players won academic honors as well):
Madison Cochran (Junior, Christopher Newport): All-CAC First Team
Maria Pareja (Sophomore, George Washington): All-Atlantic 10 Second Team
Abbey Hoisington (Sophomore, South Minnesota State): All-NSIC Second Team
Kylie Martino (Sophomore, Randolph-Macon): All-ODAC Second Team
Kimberly Zhou (Sophomore, Amherst): NESCAC All-Conference Second Team
Julia Leas (Freshman, Georgetown): Big East All-Freshman Team
Macy Monticello (Freshman, Wisonsin): Big East All-Freshman Team
Jordan Silkowitz (Redshirt Freshman, Ohio State): Big Ten All-Freshman Team
Since 2012, 146 players coached by Total Futbol have gone on to play (or have committed to play) soccer in college. Check out a complete list of our college players, past and present, here. Below, we have singled out players from each class who performed well in 2019—but any player who can survive the rigors of college soccer gets kudos from us. Congratulations to all!
NOTE: Click on names in red type to view the player's college profile page.
Seniors Finish in Style
2019 saw five seniors play in their final college games. Three of them were so-called "redshirt" seniors who had an additional year of eligibilty due to injuries earlier in their college careers. Collectively, these five veteran players competed in 79 games, starting 67 of them, and notched three goals and four assists.
Madeline McCracken (St. John's University): Madeline was a core player for St. John's in 2019, starting 16 games and playing a total of 1403 minutes. She provided one assist on the season.
Lorato Sargeant (Arizona State): Lorato finished her college career at Arizona State after playing three seasons for Virginia (and missing one due to injury). She made an immediate impact, starting all 17 games she played in and racking up five points (two goals and one assist).
Lauren Harkes (Creighton): In her first season with the Bluejays after three years as a Clemson Tiger, Lauren appeared in all 18 matches, making 16 starts during the 2019 campaign, logging 1,177 minutes on the pitch and collecting a pair of assists plus 19 shots.
Breanna Mitchell (Elon University): Breanna appeared in 19 games for the Phoenix as a senior, starting 12 of them and logging a total of 869 minutes.
Mia-Irene Gyau (Duke): After battling injuries throughout her college career, Mia competed in the first nine games of 2019 (starting six of them) before suffering a season-ending injury on October 20. She headed in the game-winning goal against Wake Forest in the 85th minute of play on September 26. She also entered a match against No. 1-ranked Virginia as a super sub at left back and helped the Blue Devils shut out the nation's top-ranked offense for the first time in 2019.
Juniors Jazz Up the Pitch
A total of ten juniors were active in 2019. Collectively, they played in 156 games, starting 78 of them, scoring 18 goals (including four game winners) and providing 19 assists.
Madison Cochran (Christopher Newport): Maddie was one of the leaders of the Captains' vaunted attack, scoring seven goals and adding four assists for 18 total points. She notched one game-winner in 2019 and placed 22 of her 45 shots (49%) on-frame. Maddie played in 22 games, started 8 of them, and was on the field for a total of 1156 minutes.
Emily Keast (Navy): Emily started 10 of 21 games in 2019 for Navy, scoring one goal and one assist. She scored the game winner in a nailbiter 1-0 match against American University on October 23. 33% of her 15 shots were on target during 789 minutes of playing time.
Jordan Fitzgerald (Emory): Jordan made 17 appearances with 16 starts as a sophomore, anchoring an Emory defense which allowed 13 goals total and recorded nine shutouts. She dished out her first career assist in the team's win over Brandeis on November 1.
Kara Kimberl (Elon University): Kara played in the midfield in every single one of Elon's 20 matches (starting seven of them) for a total of 835 minutes on the field. She notched one goal in 2019.
Abby Alexa (Shenandoah University): After a stellar sophomore season in 2018 (19 games, 13 starts, 6 goals and 2 assists), Abby outdid herself in 2019. She played in 18 games, starting 16 of them. Along the way, she scored 8 goals (two game winners) and added 8 assists for a total of 24 points on the season (third on the team). A key piece of the Hornets' offense, Abby took 34 shots in 1290 minutes of play and 20 of them (59%) were on target.
Sophomores Make a Splash
The largest class of former TF players—34—were sophomores in 2019. Collectively, they played in 466 games, starting 263 of them, scoring 31 goals (including 14 game winners) and providing 32 assists.
Mikayla Johnson (Howard): Mikayla played in and started 18 games for the Bison in 2019, helping propel them to a 14-4 record (9-1 in conference play) and to finish as finalists in the SWAC conference.
Abbey Hoisington (South Minnesota State): Abbey landed on the All-NSIC Second Team after she appeared in 18 games with 14 starts, finished third on the team in goals (five), and led her team in assists (eight, the second-highest in the NSIC). She tied for the team-lead with three game-winning goals and, in SMSU's all-time records, she ranks third in assists per game (0.30), sixth in game-winning goals (four), and seventh in points per game (0.91).
Megan Fisher (Hofstra): Megan played in 21 matches while making 16 starts (1,494 minutes) and helping Hofstra advance to round 2 of the NCAA Division I tournament. She scored two goals and added one assist for five points on the season. Her goal against James Madison in the CAA Championship match on November 9 was credited as the game-winner.
Maria Pareja (George Washington): Maria ranked third on her team with 16 points (six goals, four assists) and started in 20 of 21 matches in 2019 for a total of 1727 minutes. Her 0.659 shots-on-goal percentage (44-29) and her four game-winning goals ranked first among offensive players. She helped the Colonials return to the Atlantic 10 Championship Finals for the first time since 1997 and was honored with a spot on the Atlantic 10 All-Conference Second Team.
Grace Sklopan (Virginia Tech): One of five Hokies to start all 19 matches in 2019, Grace logged 1,649 total minutes of action, the third most among field players. She scored the lone goal in a 1-0 win over Wake Forest on October 18 and also notched an assist on the season. Her team voted her "Midfielder of the Year."
Kimberly Zhou (Amherst): Kim has been a mainstay in Amherst's backline through two seasons and she started in all 18 games for the Mammoths in 2019. Her consistent defensive skills, which led Amherst to the NESCAC Championship and into the second round of the NCAA Tournament, earned her NESCAC All-Conference Second Team honors.
Kylie Martino (Randolph-Macon): In 2019, Kylie anchored a defense that recorded 14 shutouts, the top mark in the ODAC conference. Randolph-Macon's goals-against average of 0.47 was first in the ODAC and 16th in the country, resulting in the school's 13th ODAC Women's Soccer Championship and its first since 1996. The team's 21-1-1 overall record (10-0 in conference play) and its stunning stats (34 goals scored and just five allowed) put Kylie squarely on the All-ODAC Second Team.
Freshmen are Fantastic
Just nine former TF players were freshmen in 2019. Taken together, they played in 112 games, starting 66 of them, scoring six goals and providing 12 assists.
Aleigh Gambone (North Carolina): Aleigh started her college soccer career on a team that went all the way to the thrilling 2019 NCAA Championship game—ultimately losing to Stanford in a penalty kick shootout. She played in 21 games, starting seven, and contributed one assist.
Serena Pham (Alabama): Serena started in nine matches and played in 19 games for the Crimson Tide in 2019. In 900 minutes on the pitch, she produced one goal and six assists.
Macy Monticello (Wisconsin): A key component of Wisconsin's stellar defense, Macy played in 22 games in 2019 and was named to the Big East All-Freshman Team. Wisconsin won its conference and advanced to the Sweet 16 round of the NCAA Tournament.
Mia Pham (James Madison): Mia played in 20 matches for the Dukes, starting seven and scoring one goal.
Julia Leas (Georgetown): Julia was one of four rookies who were unanimously selected to the Big East All-Freshman Team in 2019. She started in all 21 games for the Hoyas and finished third on the team with 12 points from four goals (one game winner) and four assists.
Jordan Silkowitz (Ohio State): Silkowitz, who redshirted her first season as a Buckeye, saw action in all 18 matches in 2019. In Big Ten conference games, she posted an 87% save rate (second in the conference), making 33 saves in 11 games. Just five goals from Big Ten teams snuck past her in 800 minutes between the posts, giving her a 0.56 goals-against average.